Carina in Purple
Regular price
$62.00 USD
Sale price
$43.00 USD
Unit price
per
Sale
Sold out
Get ready to make a colorful statement with our Carina in Purple visor! Slip it on effortlessly, thanks to the easy slip-on design, and enjoy a day in the sun without worrying about your hair. The adjustable headband ensures a perfect fit for everyone. 

With its full transparency lens, our purple visor not only protects your skin from harmful rays but also allows you to see and be seen. Perfect for a beach day, hiking with friends, or tending to your garden. 

Don't miss out on this limited edition color - it won't be continued! Grab yours today at an unbeatable price. Final sale item. 


Travel bag included with purchase!
SIZING
Headband 3.4"x 19". Lens 7.125 x 13.5".
Check out our sizing chart here.
All of our visors are certified UPF 50+ protection
◦Provides maximum sun protection, blocking 98% + UVA/UVB rays
◦ANSI Z80.3 Certified 
◦Heat Resistant 
◦Scratch Resistant 
◦Protects the cornea and retina from UV damage
◦Durable, comfortable, and easily sanitized 
using a microfiber or other soft cloth
◦Convenient slide on band with adjustable open back
Please see FAQ page for any additional questions.
Shipping

We ship out orders within two days of order placement. With the goal of sustainability in mind, our boxes are made from 100% recycled materials. Even our packing tape is made from eco-friendly kraft paper, which means the box can be recycled without treatment, unlike most packaging tape! ♻️
Share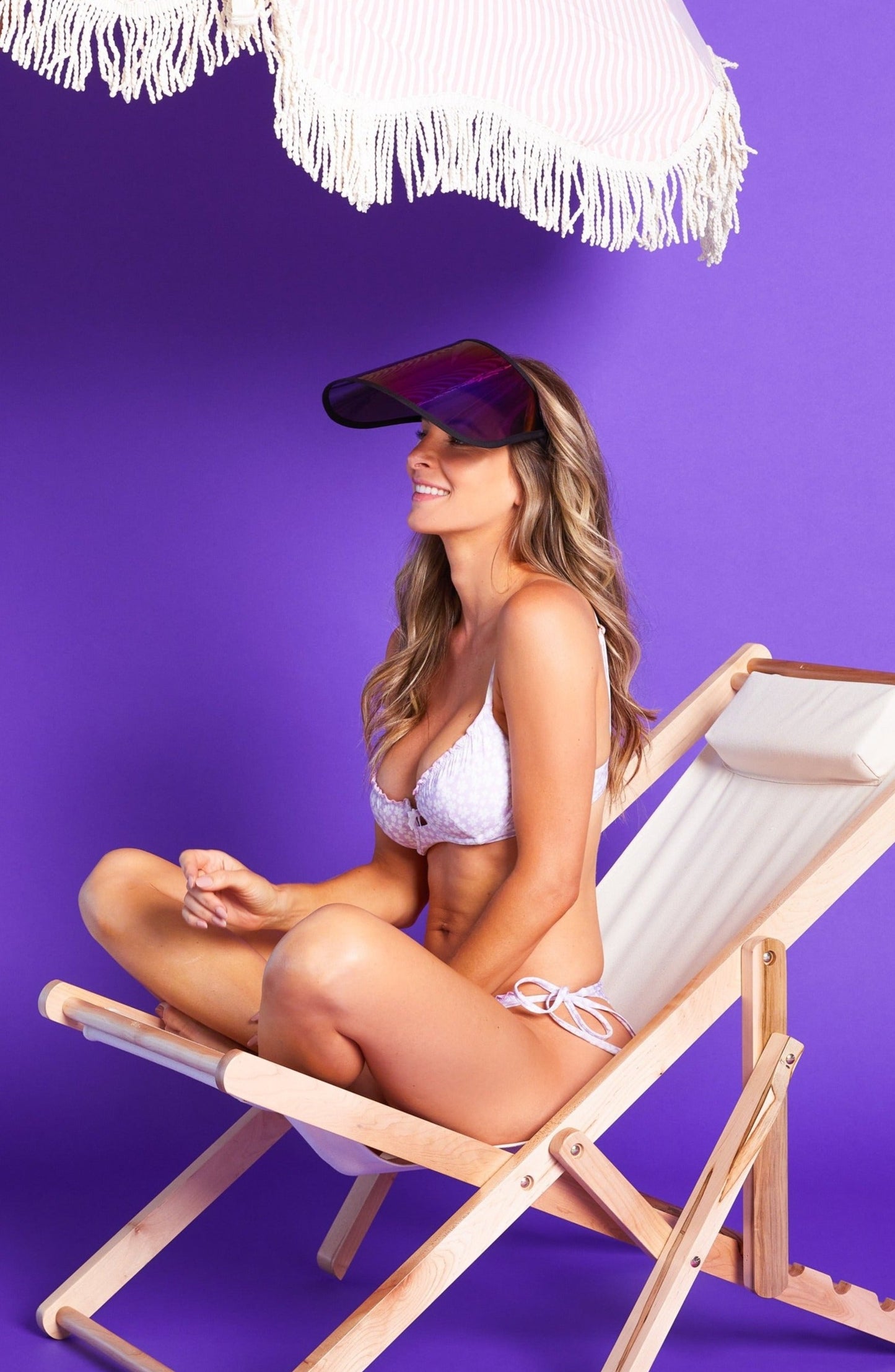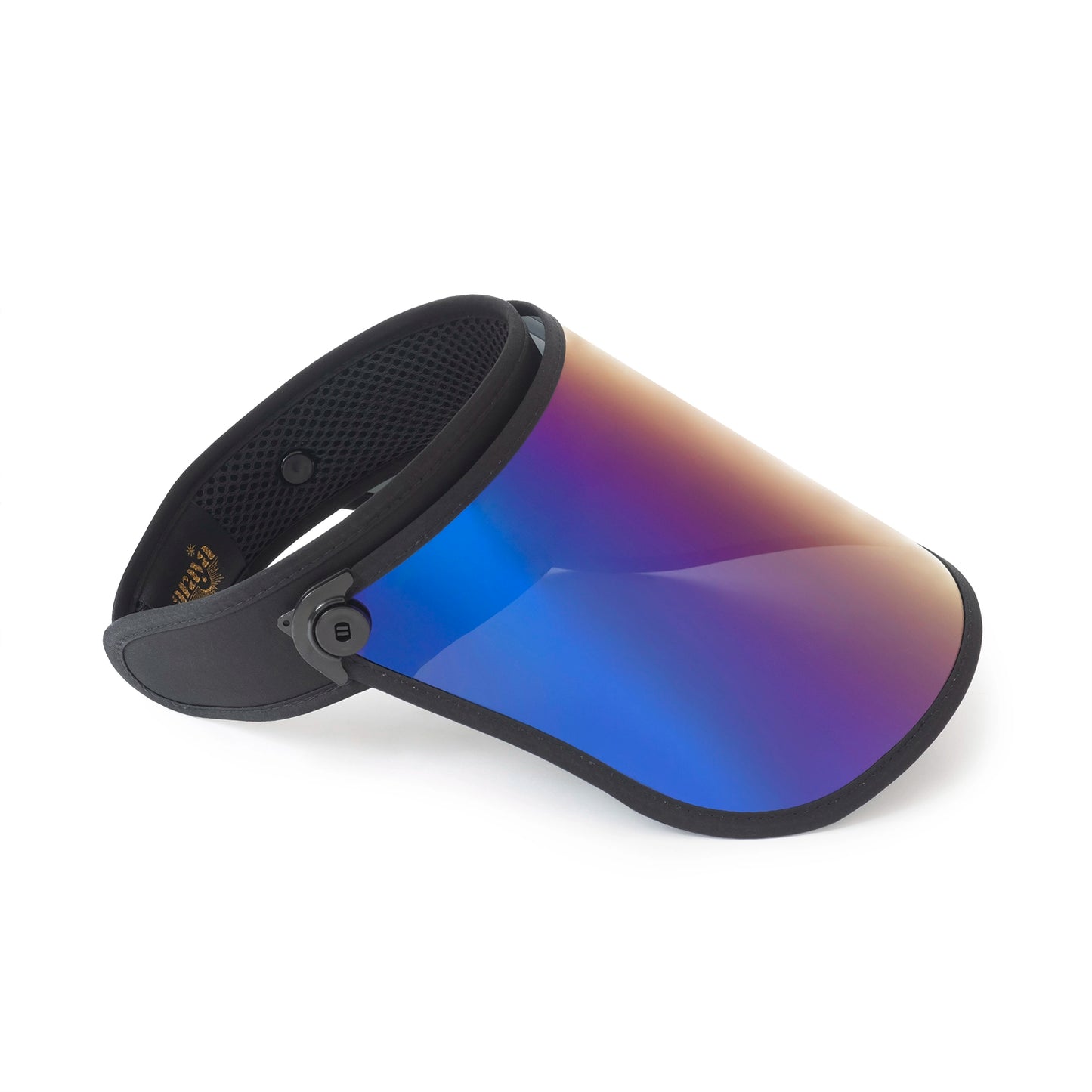 Feel the difference
Im grateful I bought this visor- it has brought joy to my day because my face burns so easy. Sorry if TMI to some…but.. I love naked morning sun and now can enjoy this pleasure without any chance of burning my face:)
Way better than the Amazon ones
I've bought multiple cheap visors from Amazon and they all look so bad compared to my Araya one. Luckily Bezos gave my money back on a few lol. I've had a few bend looking all weird and one had the band break. Some of them also press my head uncomfortably if I wear them longer than 30 min. This is the first one that feels good and has lasted. I can tell it's better quality manufacturing. Great product
LOOOVE
I'm so in love with this visor. I'm prone to dark spots from the sun and it's not always easy to reapply spf every two hours. I also love that you can adjust it. Highly recommend it
My best friend in the car
I have 2 of these visors, and the Carina stays in my car 24/7. I slip it on as soon as I get on the road and I love not having to worry about sun damage from driving anymore!
Go get YOURSELF one!
LOVE my visor!!! I wear it for walks and for boat rides. It is so comfortable, light weight, doesn't give me a headache by over squeezing (like other visors) yet stays in place perfectly, and provides amazing protection for my skin which I love! Definitely recommend getting yourself and loved ones this visor!